Dave "Sully" Sullivan Knocks Their Socks Off - 3/29/02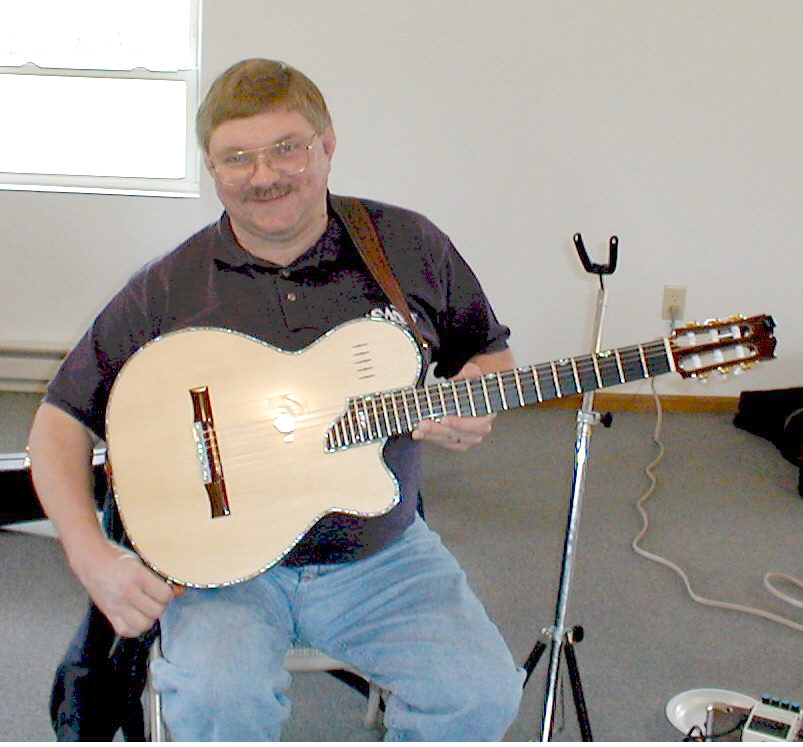 Sully has been a good pickin' buddy of mine for over four years, now - but, I've never allowed myself the pleasure of just sitting back and listening to him play - for hours. I had that opportunity this past Friday evening as he played an official gig at Scotty McBean's Coffee House - the place in Worthington, Ohio where we host our Tuesday evening club jams. And, he knocked me and the other patrons off our feet…. He is a deceivingly good guitar player… Better so than a lot of local professionals I have heard. And, he got to proved it last Friday night.
For three and a half "solid" hours he played his smooth clean repertoire of Atkins, Reed, Morgen, Kluge, and latin composers arrangements. All of his tunes are complex movements of walking bass, rhythm, and syncopated melodies that transcended the wide age gap of patrons that were present. Old and young alike seemed to understand the mastery he possesses for playing that gorgeous Kirk Sand guitar. Take Five, Struttin', If Palmer Only Had a Brain, 50 Cents Will Buy You a Cup of Coffee, Stompin' At the Savoy, several Latin tunes I can't pronounce, Swedish Rhapsody, Beetle medleys (favorites of the younger crowd present) were among the many tunes he played that evening.
Folks, there is a reason that Sully doesn't play with a Band-in-a-Box or drum/bass machines ---- he doesn't need them. He plays the melody of his tunes with a couple of his fingers - the only other accompaniment he needs is the rest of those fingers - and, he uses every one of them…
Written by one proud buddy - Palmer Moore