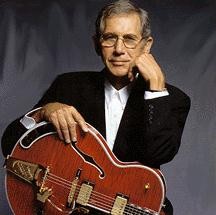 (the most copied picture on the net ----- after Brittany Spears....)
Chet Atkins Appreciation Society (CAAS)
Chet Atkins Appreciation Society Web Site
The Chet Atkins Appreciation Society is headed up by Dr. Mark Pritcher from Knoxville, Tennessee. It's main effort is to publish four newsletters and produce a four day convention in Nashville each year - of course all in honor of the greatest guitarist of all times - Mr. Chester Burton Atkins. The club was started by Jim Ferron in 1983, a member of the original Chet Atkins fan club which started in the 50's, taking the organization in a new direction, making it a point of focus for guitar music lovers, guitarists, record collectors, teachers, and students of the guitar. I don't know exactly how many members they have, but it's got to be over a thousand, now.
"Mr. Guitar" - Newsletter
The quarterly (or thereabouts) newsletter features articles about the guitar, interviews with important players and personalities, news about Chet and his itinerary, tips for guitar players, transcriptions of guitar music, and the word on new guitar CD and tape releases. There is also coverage of upcoming events of interest to players and guitar music aficionados.
The Convention - THIS IS A MUST!!!! - Wed-Sat, July 11-14th, 2018
Once a year hundreds of the best finger pickers in the world convene to pick and pay tribute to their hero, Chet Atkins, at this annual convention held at the Sheraton Music City Hotel in Nashville out near Opry Land. It is four solid days of early morning to late night of the best guitar pickin' you'll ever hear. Entertainment continuously from 9 am till almost midnight and simultaneously on the main stage, the great room, the Picker's Clubs Room, or the late Buster Jone's Lounge (one of my favs.) And, non-stop workshops in 3 or 4 rooms. And, be prepared to forget any of those options at any particular moment for a superb jam session that "just happened" in a corner somewhere. (Get some sleep BEFORE you come - because you won't get any while you are there...)

Capped off by a super Saturday evening concert by some of the industries heavies.

My only disappointment is that I didn't find out about this event until 1998 - I should have been going to this for years... I'll never miss another.... Palmer Moore - OFGC Organizer

This year (2009) there is going to be super slate of "guest pickers" in attendance. A few to mention: TOMMY EMMANUEL, JOSCHO STEPHAN, DOYLE DYKES, RICHARD SMITH, THOM BRESH AND NOKIE EDWARDS!!! Simply the best finger style guitar talent in the world...

20

18 Convention Costs (does not include lodging, meals, CDs, picks, strings, new Kirk Sand guitars, or tatoos of Muriel Anderson, or Chet...):

Four Days - $240 ($230 prior to June 5th)
Any two days - $150
One day - $75
Sat Concert - $5 (each attending family member)
CAAS Membership - $25 ($27 Canada, $30 elsewhere worldwide - must be a member to attend)

2018 Registration - (not available, yet)

For further information phone (865) 577-2828 Fax (865) 687-2065 or e-mail GMPJR1@aol.com

or write:

CAAS/Registration
3716 Timberlake Rd
Knoxville, TN 37920

CAAS Convention Layout and Activities

As wonderful as the CAAS Convention is every year with all the world class (and, not) pickin' going on most of the day and night - it can be very confusing trying to figure out how to see everything you want to see because of the number of things that are going on AT THE SAME TIME. So, you are going to need to brush up on a little "time management" to take in everything you want - or, you can just relax and wander around from one great pickin' event to the other.... Your choice - and, either way - A BLAST.

CAAS basically rents all of the available commercial space that the Opryland Sheridan has and divvies it up in various large and smaller rooms for the purpose of formal performances, vendor areas/vendor paid performances/jams, and informal get-togethers and jams. And, then you have other very informal areas such as the lounge, hallways and elevators where pickin' action occurs all the time. But, on the last evening (Saturday) everything comes down - and, they open up all the partitions between the "rooms" and make one VERY LARGE auditorium for the final show.. which used to feature Chet, but now is just a great tribute to Chet by some of the best guitar talent on the earth.

Here are the areas to look for:

Main Convention Lobby - the main lobby has the CAAS Check in Counter where everybody must sign in, pay for your convention pass, and yer membership dues - if you haven't previously done so. (You need to be a member of CAAS ($20) to attend the convention.) It also has the sign up boards for the Workshops and the 9 am to 10 am Main Stage "open mic" sign up..

The Main Lobby is also a huge repository of Vendor Booths of all kinds selling CDs, old records, tapes, T-shirts, guitar lessons, periodicals, and some "stars" set up booths to sell their latest CD/DVD releases.. Each booth would like to have music playing or live jams by their "stars" - but, it would get VERY LOUD in the Main Lobby area if they were allowed to - so, mini performances and jams are restricted to EVERYPLACE ELSE in the hotel except the Main Lobby.

Main Stage #1 - the largest room at CAAS and where formal entertainment is presented from 10 am until 11pm everyday in 45 minutes segments (days) and one hour segments in the evenings. It is also the "stage" for the large Saturday Night Concert. The schedule for this room is listed in the convention brochure that is handed out with your registration packet.

Main Stage #2 - this is a recent addition to the convention due to the number of great guitarists that come to the convention each year. It runs from 10 am until 5 pm everyday. The schedule for this room is also listed in the convention brochure.

Workshop Rooms (Up to four at the same time) - these smaller areas can seat 60 - 70 people and various guitar entertainers are scheduled to put on workshops in them during the day. These workshops are listed in convention brochure, but must be signed up for on easel sign up sheets out by the check in counter in the Main Lobby. (This will take some serious coordination because these will change from time to time after the convention starts...)

Picker's Club Room - this is an area where all the regional fingers style guitar clubs that are associated with CAAS "set up shop" and help coordinate the talent for their little stage. It seats 50 - 60 people in the inner stage area, and many tables in the outer area for the clubs to sell their club merchandise and offer up club literature and information for new members. This room is open from 9 am until 2 or 3 am EVERYDAY... It's the place you'll most likely find good old time Chet thumb pickin' music. Lot's of folks hang their hats in this room for the whole convention.

Vendor Rooms - there are two main Vendor Rooms and another dedicated to Wallace Guitars. Jams and paid performances can be heard in these rooms all day long and well into the evenings. They will post the scheduled performances on signs out in front of those rooms. Pretty much none of them are scheduled ahead of time - so, you need to check each room often to see who is going to be playing and when.

Hotel Lobby - believe it or not there's even a few little areas in the hotel lobby that have coffee like tables, a couch, and a few chairs that will attract the more "acoustic" set to start jamming. This is where you will most likely find the "classical" players showing each other their "stuff."

Hotel Elevators - I'm just joking about this, however the first year that the phenomenal harp guitar playing (and, very funny) Stephen Bennett was at the convention (I believe it was his first year - I know it was my first year) I happened to catch an elevator ride with him right after I had seen him play. I mentioned how much I enjoyed his unusual sounds - which must have been enough provocation for him because he immediately reached down and took the "harp" out of it's case right in the elevator and started to show me what I had been asking about. The elevator got to it's destination floor - we got out - he was still playing - and, we sat on the floor by the elevator for another 10 minutes while he finished his demonstration... This is the essence of the CAAS Convention, folks.... The nicest, most caring and giving people on the face of the earth - and, lot's of talent.

What and Where to Eat

There is a very convenient buffet in the hotel restaurant every meal - or, you can order from the menu. And, they set up a walk-through line out in the Main Lobby for a light lunch every day. However, both are fairly expensive - and, marginal at best, but not bad for hotel fare. There are three places (when open) to purchase coffee (the restaurant, front desk & CAAS lobby - during the day) - great coffee but way over priced - and, not always available. If you are a big coffee drinker you may want to consider bringing a BIG thermos jug and driving to the gas station just down the street in the morning and filling it up.... If you are staying at the hotel - bring a coffee maker... You'll save hundreds of dollars during the week.

There are a number of reasonably priced fast food and sit down restaurants within a 5 minute drive from the hotel. Just ask anybody that looks well fed.... (he he)

Places to Stay

Sheraton Music City Hotel call: (615) 885-2200 (this is also the convention hall)
777 McGavock Pike
Nashville, TN 37214 USA
615 885 2200
reservation call center 1 800 325 3535

Ramada Inn (Airport Briley) (close enough)
837 Briley Parkway -
615-361--6999

Comfort Inn (close enough)
2516 Music Valley Drive
615-889-0086

Courtyard by Marriott
2508 Elm Hill
615-883-9500

Hampton Inn (real close)
2350 Elm Hill
615-871-0222

Homewood Suites (real close)
2640 Elm Hill
615-884-8111

Residence Inn by Marriott
2300 Elm Hill
615-889-8600
CAAS Convention Reviews