OFGC/MAC House Concert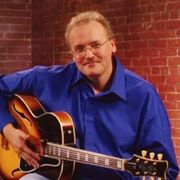 John McClellan's playing has been described as "masterly...with a virtuous warm tone...fluid phrasing and a strong sense of rhythm" (The Brisbane Courier Mail, Brisbane, Australia). A master of many musical styles, John has been heard in concert and on recordings with Luciano Pavarotti, Vince Gill, Tim Thompson, Mark Knopfler (Dire Straits), to name a few. As a soloist, John has done major tours of the U.S. and Australia.
John McClellan
Saturday, April 15th, 2017
(3 pm)
McConnell Arts Center
777 Evening St.
Worthington, OH 43085
(614) 431-0329
Cost = $20 (students $10)
In addition to being a pristine performer, John is the author of the fastest selling books in the history of Mel Bay Publications, Chet Atkins in Three Dimensions, Volumes 1 and 2. He recently released an exciting two-DVD set demonstrating the styles and music of Chet, aptly titled Chet Licks (OTI Multimedia). Most recently, John's publications, The Magnificent Guitar of Jorge Morel, and a third volume of his series of books on Chet Atkins were released to major sales and international acclaim. John serves as Professor of Guitar and the coordinator for guitar studies for Webster University in Webster Groves, Missouri.
To the true Chet Atkins fans, John can't be classified as a "thumb picker." But, rather a classical guitarist that NAILS Chet's Alone, Almost Alone and his posthumously released Solo Sessions - and, any of the classical numbers he recorded over the years.
OFGC Monthly Pickin' Parties
Second Saturday of each month:
(10 am - 4 pm)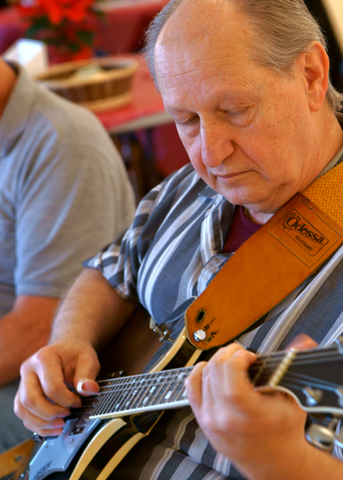 Next Pickin' Party
Saturday, April 8th, 2017
(10 am - 4 pm)
McConnell Arts Center
777 Evening St.
Worthington, OH 43085
(614) 431-0329
Cost = donations accepted
Our regularly scheduled monthly Pickin' Parties have taken on a wonderful personality of their own - FOOD! Yes, the number of folks that just come and enjoy the music have decided that they will bring "dishes to pass" and other stuff to feed us like kings and queens. And, there are always a number of players that come and share their love of finger style guitar music.
Sooo, pack those guitars and amps up and come join at the MAC for a Pickin' Party to remember. Or, just come and listen to some good ol' thumb style guitar. If you need a security check - call me, Palmer Moore, (614) 306-6457.
OFGC Club Jams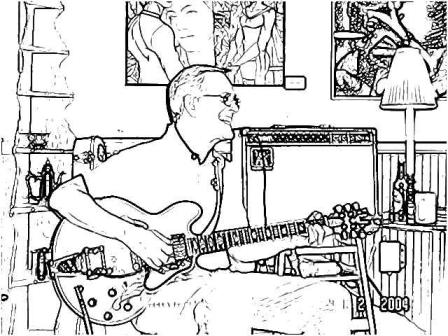 We are into our 16th year of having a ball pickin' every(other) Tuesday evening.
1st, 3rd & 5th (if there is one) Tuesday of each month!
We had been having a Tuesday Night Jam at Scottie's Coffee House in Worthington, OH. for over 9 years until the recent owner had to close. Nobody bought it (we went through 4 owners) so the awesome staff at the beautiful new Peggy R McConnell Arts Center, 777 Evening St, Worthington, OH started a "Cafe MAC" to host our jams. Had to change the times to 6 till 9.. Come on down and bring your guitars and pick a couple with us.