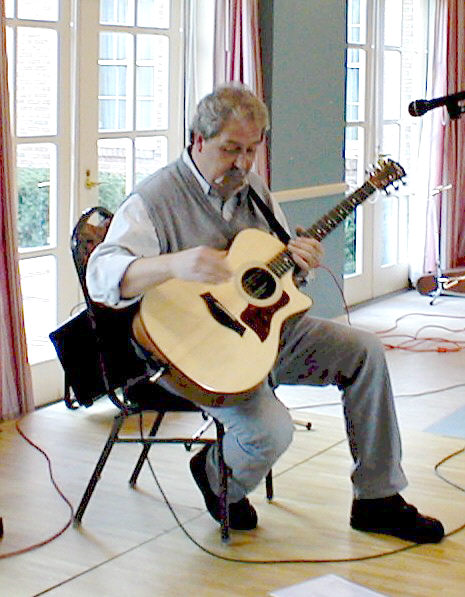 Our featured Guest Picker - Scott Taylor played the daylights out of that Taylor guitar that he won in a pickin' contest in Muhlenberg County Kentucky. Lots of complex right hand fingering that kept us on our toes. He plays mostly standing up, but he will sit down - occasionally.
| | |
| --- | --- |
| | I told you he couldn't sit for long... (I think he's playing Borsalino... Great job - nobody else has even tried it at our Pickin' Parties.) |
| | Pete Cavano from Cleveland, Ohio has got the be one of the smooothest guitarists in the world. He played us some tunes from his new Christmas CD. Great twists on some popular holiday tunes. |
My photographer (greeter and check in man, set up dude, treasurer, and bottle washer), Arnold Alpert (no relation) never stays long enuff to git any shots of our "pickin'-in-the-round" - but, it was a good one.