Map of Muhlenberg County, Kentucky
Muhlenberg County, Kentucky is at the intersection of the West Kentucky Turnpike (east - west), and Route 431(the route that Merle and Chet used to take back and forth from Nashville to Drakesboro, KY to visit Mose Rager (and, steal his licks.) And, it is the second exit (traveling west) past the William H. Natcher Parkway. At the Muhlenberg exit look for the sign that says "Central City - Drakesboro".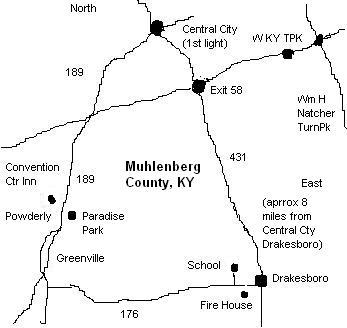 The area you are going to need to travel in Muhlenberg County is kind of on a triangle between Drakesboro (where activities happen at the High School & Fire House), Central City (where you need to drive through to get to the motel), and the Powderly-Greensboro area where the Convention Center Inn and Paradise Park are (and, the best breakfast places.) However, until you get used to the area don't attempt to drive between Powderly and Drakesboro through Greenville. Instead, drive back up to Central City and turn right at the intersection of 189 and 431.
To the Convention Center Inn & Paradise Park
Get off the West Kentucky Turnpike at the "Central City - Drakesboro" Exit # 58. Drive North on Rt 431 (a left hand turn from the off ramp) approximately 1 mile to the FIRST STOP LIGHT in the outskirts of Central City... (Continue straight IF YOU WOULD LIKE TO GO DOWNTOWN CENTRAL CITY...)
Take a LEFT onto Route 189 South...
Drive approximately 6 miles and look for the Convention Center Inn on the right (big sign), or proceed another 1/4 mile to Paradise Park on the left...
Convention Center Inn
2011 West Everly Brothers Blvd (Rt 189)
Powderly, KY 42367
(800) 457-6318
(270) 338-9797
To Drakesboro
Instead of going North on Rt 431 from the West Kentucky Turnpike, drive South on 431 approximately 7 miles to Drakesboro.
At the light, turn right onto Rt 176 - to drive up into the very little village of Drakesboro..
The Fire Hall is just at the top of the hill on the left. (Mose Rager's home is right across the street.)
And, the School is another block up 176 - take a right and start looking for a big old brick school house... Pull around the left side of the building and park in the back.