Review

Richard Smith & Julie Adams
Wows Us at MAC

(April 29th, 2011)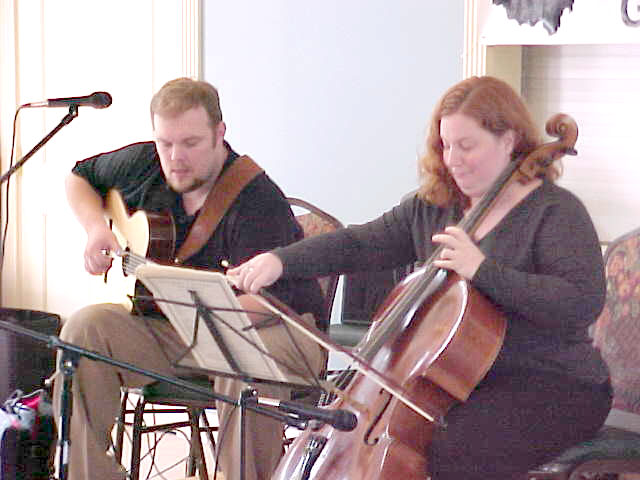 OK, this picture was taken of Richard & Julie about 5 or 6 years ago when they first came to play for us at the Griswold Center - because I was too busy with "things" to remember to actually take a picture of them playing this past Friday evening (4/29/2001) at the beautiful new McConnell Arts Center here in Worthington, Ohio. The good news is, however, that during those years of touring the world and recording that they have become a much more entertaining duo.
Where Richard used to come out and perform a totally solo set then invite his lovely wife, Julie Adams, to join him for a duo set - they now come out together with a delightful mixture of solos, duos, and frivolous entertaining bantering. And, believe it or not - they have BOTH become better at their music. Julie is using her "charts" less - which, of course, gives her more time to entertain and feel Richard's groove more. And, Richard - yep, even Sir Richard has been adding MORE breadth to his fret board skills - JAZZ! He is delving deeper and deeper into the sophisticated jazz realm - without losing, for one second, any of the Chet, Merle and Jerry riffs he honed his musical teeth on as a kid and younger adult.
After an hour and 20 minutes of duo bliss - Julie took a bow and Richard was joined by two top notched locals Chaz Mechenbier - on guitar, and Andy Woodson - on bass for a set of major-ly up tempo swing music that allowed Richard to reach for the moon - which he did. And, what a set it was!!!!
A great evening of music was had by all.
Palmer Moore - Organizer, Ohio Fingerstyle Guitar Club