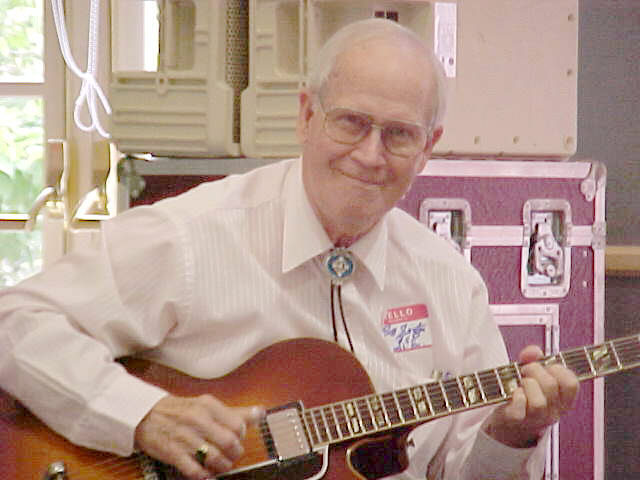 Available Recordings:
"Gospel Favorites" - CD - $15
Who am I, Standing of the Promises of God, On the Jerico Road, Just a Little Talk with Jesus, Without Him, etc.
"Christmas Favorites" - CD - $15
White Christmas, Christmas Song, I Saw Mommy Kissin' Santa Claus, Grandma Got Run Over By a Reindeer, Santa Claus Coming to Town, etc.
"Playing with Feel" - Bob's Instructional Book w/ CD" - $25. Ten songs with Bob's arrangements. Notes and tablature:

Stardust, Playing with Feel, Embraceable You, I'll See You In My Dreams, Good-bye My Bluebell, etc.
"Special Styles" - CD - $15
(New!)
Playing with Feel, Copper Kettle, Deed I Do, Can't Help Falling in Love, Bye Bye Blackbird, Getting Sentimental Over You,,, etc.
To purchase any of the above call or write:
Bob Saxton
3804 Barberry Dr #I-7
Laurel, MS 39440

(601) 428-5657
In 1995 and 1998, Bob Saxton won the prestigious Merle Travis Nation Thumbpicking Championship.

In June of 1983 Bob had the honor to play with Merle Travis for about four and a half hours. He has some of that on cassette that money can't buy.

In 1959 he was lead guitarist for Gene Vincent, the guy that had "Be Bop a Lula." He has also performed with Bobby Gentry and was a guest star with Tommy and Jimmy Dorsey. He also had the blessing of performing with Patsy Cline.

He is an honorary member of the Chattanooga Thumbpickers. He has performed at the Grand Ole Opry. He is also in the New York Country Music Hall of Fame in Cortland.

Bob has been blessed by God to perform with some of the mightiest, greatest guitarists on the face of the earth. Respected by all for his gentle nature and infinite guitar capabilities.

Bob Saxton is held in the highest regard within the professional guitarists ranks. His knowledge of the instrument is unsurpassed, and he plays a wide variety of music including finger picking Chet and Merle tunes, and big band arrangements as well. Those of us that regularly attend the CAAS (Chet Atkins Appreciation Society) convention in Nashville each year need no introduction to Bob. His fabulous guitar playing can be heard on the main stages, Picker's Club Room, and vendor's room.

During Mr. Saxton's visits with the Ohio Fingerstyle Guitar Club he has held the audience of professional and amateur players spellbound for several hours.