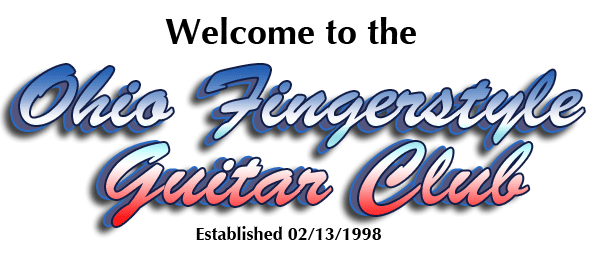 Our Club Heroes
| | | |
| --- | --- | --- |
| | We are dedicated to enjoying and preserving the thumb picking finger style guitar music of Chet Atkins, Merle Travis, Jerry Reed, and Tommy Emmanuel in and around Ohio. If we don't promote and support thumb-picking and finger style guitar - it will surely die with us. | |
| | |
| --- | --- |
| | Our next regularly scheduled Pickin' Party will be held on Feb 14th, 2015 - yep, Valentines Day - 10 am to 4 pm at the McConnell Arts Center here in Worthington, Ohio. (more info) . |
| | A few of us OFGC members will be traveling to Greenville, KY for the Saturday 01/31/15 annual Thumbpicker's Hall of Fame meeting and Merle Travis Day with an open jam after the 9 am HOF meeting with lot's of good pickers until everybody gets tired, or their fingers get sore.. |

| | |
| --- | --- |
| | The Mark Mazengarb & Loren Barrigar concert at Natalie's last week (01/20/15) was spectacular - and, SOLD OUT! They both are accomplished solo guitar players in their own right, however when playing together they seem to feed off each other providing their audiences with a very memorable performance. |
| | Due to the Frank Vignola concert at Natalie's Coal Fired Pizza on Tues, Feb 3rd (below) we will be shortening our Tues Night Club Jam that evening at the McConnell Arts Center, 777 Evening St, Worthington, Ohio. (6 pm til 8 pm) |
Tues, Feb 3rd (8 - 10 pm) - Frank Vignola & Vinnie Raniolo - another amazing duo on guitar. Frank and Vinnie have been providing "jazz" influence to the Chet Atkins convention for many years. They are ALWAYS a crowd favorite! Take a listen to their incredibly pristine and accurate playing. (listen) Frank was Les Paul's staff guitarist at the Iridium for many years at the end of Les' life.
| | | |
| --- | --- | --- |
| Check Out Our "Guitar Friendly" Retailers: | | Odds 'n Ends: |
| | |
| --- | --- |
| | Peggy R McConnell Arts Center, 777 Evening St, Worthington, OH 614 431-0329. A new center for visual and musical arts - hosting bimonthly Music at the Mac - Up Close n' Personal concerts in cooperation with OFGC. |

Natalie's Coal-Fired Pizza, 5601 N High St, Worthington, OH 43085. They host a lot of LIVE music most nights except Monday - LOTS of guitar!
(614) 436-COAL

Java Central, 20 S Main St, Westerville, OH - has a super quiet room in the back for up close solo guitar concerts. Check their website calendar often for entertainment.

(614) 839-0698

This web site was thrown together with FrontPage 2000 - and though it's better than nothing - it's still very frustrating gittin' it to do what I want it to do, sometimes...... I should be spending this time pickin'.... Web Hacker & Club Organizer - Palmer Moore Say Hello

The caricature above was drawn by professional cartoonist, guitarist and avid OFGC club member since our inception - Dan Collins.